Blog
2015-08-04
King & Queen of the night
Fresh tracks in the sand after the roarer past our fence at 01:51AM.
We must wait for him...one of these days we will have a pic of that Lion!
Our Plant of the week last week was the Queen of the Night. Before our area became a protected area land owners were responsible to destroy these plants wit poison but we had to make alternative plans in order not to poison our animals. These days Impala and Giraffe feed from this plant.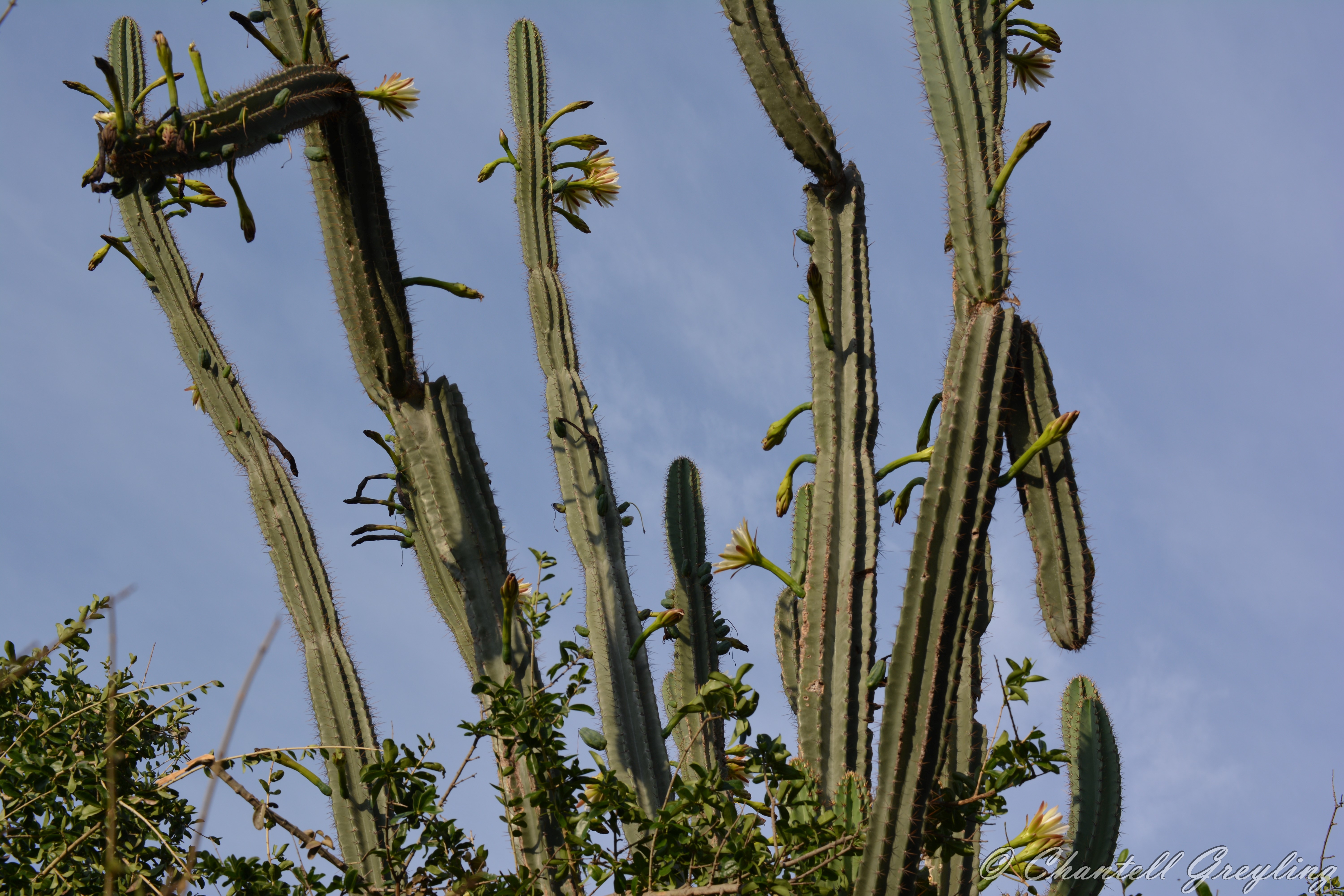 This week we feature an introduced plant species. Although it is important to know about South Africa's native trees, the introduced species are also important as we need to be informed about their negative impacts on the natural environment.
Queen of the night
Queen of the night (Cereus jamacaru) is a large upright growing tree (6 – 7m tall) with succulent stems and a short woody trunk native to South America. Queen of the night is an introduced tree species in South Africa and have many negative effects on the natural vegetation in their introduced range. This succulent tree is also known as Peruvian Apple Cactus while in Afrikaans it is known as "Nagblom" or "Bobbejaanpaal". Queen of the night was probably introduced by succulent collectors to use as an ornamental plant and hedges in gardens. Although this plant has some useful aspects, it is not enough to outweigh the negative effects that it has on the environment. Due to the threats that it hold for natural vegetation it is considered to be a weed in South Africa (declared as a weed in 1982), Australia and Hawaii. Queen of the Night is often confused with Common tree Euphorbia (Euphorbia ingens) but can be distinguished from the Euphorbia as it doesn't exude a milky latex when the stems are cut.
Queen of the night is a multi-stemmed, succulent plant with the green stems covered in a bluish waxy layer. Each stem contains between 4 and 9 lateral ribs. These ribs are covered in spines that are grouped together in groups of six to eight spines. Being a succulent plant, Queen of the Night has a shallow but extensive root system that aids the collection of water. The flowers of this tree is has a distinctly white in colour shaped like a funnel. As the name indicates, the flowers open at night and closes in the morning. On cool and cloudy days the flowers will remain open. The flowers are pollinated by bee and various night-flying insects. After the flowering season, the flower petals and stamens drop leaving a round red to pink fruit. The fruit contains a large number of black seeds, when the fruits are ripe, they split open allowing birds and baboons to feed on and disperse the seeds. The fruits are edible.
In South Africa, Queen of the Night infests the warmer parts that include Gauteng, North West, Mpumalanga and the Limpopo province. The worst infestation is found north-east of Pretoria at Kameelpoort where it has invaded approximately 3 000ha of land. Smaller infestations occur in the vicinity of Soutpan, Warmbaths, Pienaars Rivier, Hammanskraal, Pretoria North, Rust de Winter, Groblersdal, Thabazimbi, Rustenburg, Brits and the Cradle of Humankind.
Why is it a problem and how do we control it?
Queen of the night is a problem as the cactus has the ability to invade natural habitats and replace the natural vegetation. Growing in grasslands, Queen of the Night can reduce the grazing potential, ultimately decreasing the amount of animals that the land can sustain. They also prevent animals from finding shelter underneath these succulent trees and injure animals that graze in close proximity of the plant. Seedlings are often not detected and when grow taller than the surrounding vegetation it already has produced seeds. Queen of the night is particularly difficult to eradicate as they have no natural enemies (or biocontrol agents) in South Africa. Biocontrol agents have been replaced by the physical removal of the plant. Biocontrol agents have been identified and have been used in controlling the invader. These are the mealybug (Hypogeococcus pungens) and an introduced stem-boring beetle (Alcidion cereicola) from South America.
Uses
In north-eastern Brazil this tree has been used in wound treatment and as in anti-inflammatory agent. The phenolic compounds that the tree contain may also have anti-fungal and antioxidant properties. In other parts of the trees native range the roosts are used as a diuretic; to treat respiratory and renal diseases; while a pulp of the stem is used to treat gastric ulcers.
Sources
Van Wyk, B. & Van Wyk, P. 1997. Field Guide to Trees of Southern Africa. Struik Publishers. Page 36 & 40.
Klein, Hildegard. Queen of the night cactus (Cereus jamacaru) in South Africa.
Vatta, A.F., Kandu-Lelo, C., Ademola, I.O. and Eloff, J.N. Direct anthelmintic effects of Cereus jamacaru (Cactaceae) on trichostrongylid nematodes of sheet: in vivo studies.
http://www.invasives.org.za/invasive-species/item/218-queen-of-the-night-cereus-jamacaru.html
http://keys.lucidcentral.org/keys/v3/eafrinet/weeds/key/weeds/Media/Html/Cereus_jamacaru_(Queen-of-the-night).htm
Compiled by : Chantell Greyling